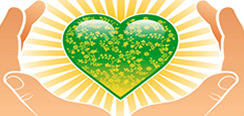 "The greatest wealth is health."
Virgil
Healthy Living
Vibrant, vital, happy and healthy – this is the ideal state of life that virtually everyone wants to achieve, regardless of age. It's doable, but the secret isn't a cosmetic quick-fix. Rather, the best way to stay physically strong, healthy and full of optimism with each passing year is a daily investment in exercise that works with your body's biological changes.

Food can make you healthier too-- if you make good choices. It can seem hard to make healthy food choices, particularly if you are on a budget and short on time. But there are some simple steps you can take to help you and your family eat healthier . . . Shop Smart and Eat Smart!!

Daily Tips on Healthy Living

1. Make healthy eating and physical activities fun!
2. Start your day with breakfast.
3. Walk, bike or jog to see friends.
4. Climb stairs instead of taking an escalator or elevator.
5. Encourage others to join you.