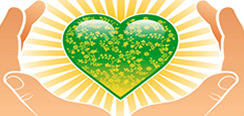 "The greatest wealth is health."
Virgil
Healthy Living
Vibrant, vital, happy and healthy – this is the ideal state of life that virtually everyone wants to achieve, regardless of age. It's doable, but the secret isn't a cosmetic quick-fix. Rather, the best way to stay physically strong, healthy and full of optimism with each passing year is a daily investment in exercise that works with your body's biological changes.

Food can make you healthier too-- if you make good choices. It can seem hard to make healthy food choices, particularly if you are on a budget and short on time. But there are some simple steps you can take to help you and your family eat healthier . . . Shop Smart and Eat Smart!!

Daily Tips on Healthy Living

1. End your showers with ice cold water!
2. Twice a day, breathe deeply for three to five minutes.
3. Have a good cry.
4. Give your partner a hug every day before work.
5. Sprinkle just-washed sheets and pillowcases with lavender water.