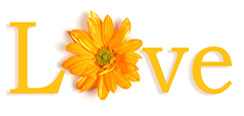 "I've never seen a smiling face that was not beautiful."
Author Unknown
One summer night, out on a flat headland, all but surrounded by the waters of the bay, the horizons were remote and distant rims on the edge of space. Millions of stars blazed in darkness, and on the far shore a few lights burned in cottages. Otherwise there was no reminder of human life. My companion and I were alone with the stars: the misty river of the Milky Way flowing across the sky, the patterns of the constellations standing out bright and clear, a blazing planet low on the horizon. It occurred to me that if this were a sight that could be seen only once in a century, this little headland would be thronged with spectators. But it can be seen many scores of nights in any year, and so the lights burned in the cottages and the inhabitants probably gave not a thought to the beauty overhead; and because they could see it almost any night, perhaps they never will. ~Rachel Carson
>

Herb Library Harness the power of natural herbs and herbal supplements. Please browse our directory of natural herbs and herbal supplements.

Trendy Nail Wraps Trendy nail wraps made of from a high performance vinyl film designed to cover the nail plate.
Trend-Bazaar.comShop for prestige beauty products such as cosmetics, fragrances, makeup, skin care, hair care and gifts.
Love and Herbs
.....a brand new name within the beauty & health industry. Love and Herbs offers luxurious botanical hempcare products through the powerful combination of nature and revolutionary technology. SHOP NOW!
Daily Tips on Beauty

1. Skin exfoliation once in a week is enough.
2. Use sunglasses that block out 100% of the UV.
3. Sun protection helps prevent skin damage, wrinkles, and reduces the risk of developing skin cancer.
4. The main tip to get rid of cellulite is exercise.
5. Anti-cellulite creams are very effective in the eradication of cellulite.