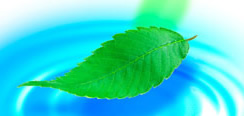 "I am only one, but I am still one. I cannot do everything, but I can do something."
Helen Keller
It's easy being green
Green living for my family is about finding a lifestyle which causes no permanent damage to the planet. It's about finding sustainable answers to our needs and desires. And it's about living in harmony and balance with other living inhabitants of our world.

Don't let other's views discourage you from what you are doing. There will always be people that think you are not doing enough and others who think you are a fool for doing anything at all. Do the best you can and be proud of it.

Green Living Story of the Day
Daily Tips on Simple Green Living

1. Take advantage of public transportation or carpooling.
2. Install energy saving light bulbs.
3. Install energy saving low flow shower heads in your home.
4. Use eco-friendly cleaning products around the house and yard.
5. Add insulating window coverings to your windows.