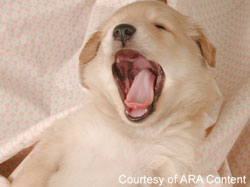 Looking for Love on Valentine's Day
(ARA) - Wanted: Someone to love for lifelong partnership. Must be outgoing and affectionate and be free with kisses.
If Valentine's Day makes you long for this kind of relationship, consider adopting a homeless pet. The price is right: usually it costs less to adopt than to buy a pet from a breeder or pet store, both of which are contributing to the pet overpopulation problem and, in some cases, are participating in the deplorable puppy mill trade.
A pet will give you unconditional love, and only asks in return for a home to call its own. With 8 to 12 million homeless pets in shelters and rescue groups, you can also feel good that you're doing the right thing. It's as simple as visiting a shelter in your neighborhood or going online to Petfinder.com, a database listing more than 160,000 homeless pets in more than 8,000 animal welfare groups nationwide and in Canada.
Emma Dolan's valentine is Enzo, whom she found on Petfinder. The handsome Doberman had lived with cats, dogs and even a bird.
"Since I have a small menagerie," said Dolan, who lives in Dingmans Ferry, Pa., "he seemed like the dog for me." One little problem. "He was in California, and I am on a limited budget in Pennsylvania."
But love conquers all. "Long story short," she said, "my friend works for a moving company, and he was in California that week. He picked up Enzo and drove cross country to Atlanta, where I met him. That two thousand miles of driving was worth every minute."
Dolan was lucky, but it's always best to meet your potential pet in person. Some shelters have a place set aside where you can get acquainted with a pet in a quiet setting. Look for a companion that is sociable and wants to bond with you. You may want to visit the pet more than once. Ask questions of the shelter staff. If the pet has been at the shelter for a while, they may know something about her personality. Check that they have a return policy, just in case the adoption does not work out.
Choose a pet that will fit into your lifestyle. While it seems that a small dog would be an ideal apartment dweller, a high energy pooch, though small, may not be a good choice, and you'll find him bouncing off the walls, creating havoc. A Jack Russell terrier, for instance, may need room to run outdoors. If you don't have a fenced yard, you'll need to fit walks into your daily schedule. No time? Then reconsider your choice.
Joe Power of Irvine, Calif., has heart trouble and is pretty much homebound. A cat seemed as if he would fit Joe's lifestyle. He began to look online and found Bob, now called Charlie, at Cats in Need, a rescue in Yorba Linda, Calif. After passing the rescue group's phone test, he arranged to meet the Maine coon mix cat.
"It was love at first sight," Power said. "As soon as he heard me, he lifted his head and meowed. When he was taken out of his kennel, he came right over to me and fell at my feet and begged to be rubbed."
Exploring his new home the first day, Charlie kept coming back to Joe for reassurance. Now he follows Joe around like -- well -- a dog. "We have our little love fests every day, and his purr motor really gets going," Power said. "I don't know who has benefited more, him or me. I love him with all my heart."
Linette Gatmaitan and her fiancé, Dave Golden, of Silver Spring, Md., wanted a pet that was independent and litter-box trained. They also wanted one that didn't mind being hugged. "A rabbit seemed like the perfect fit," Gatmaitan said.
The couple attended adoption fairs, and at one of them they learned that Montgomery County Humane Society in Rockville, Md., had rabbits in foster homes. They adopted Barney, a Dutch-Rex mix, from foster care.
Golden had just purchased his first house, so they converted the guest room into a bunny room. "Besides a cage and plenty of toys, we provided a variety of furniture and rice mats for Barney to jump on and chew at leisure," Gatmaitan said. Their evenings were spent watching Barney play.
When the couple started spending more time at work and had less time for Barney, they decided a bunny buddy was in order.
"We saw Satine on Petfinder," said Gatmaitan. "She is a beautiful snow-white Blanc de Hotot with hypnotic Cleopatra-mascara eyes." The two bunnies got along just fine, and Satine moved into the bunny room. "Dave and I are so lucky to have two such adorable and sweet bunnies in our lives." To learn more about adopting a rabbit, visit www.rabbit.org.
To find your local animal welfare organization, consult the yellow pages of your phone directory or visit www.petfinder.com and click on "Local shelters."
Adopting a pet is a 10- to 20-year commitment, so take time to do it right. Diamonds may be nice, but it's the love of a pet that is forever.
Courtesy of ARA Content