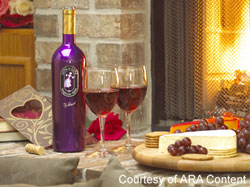 A Little Imagination Can Go a Long Way on Valentine's Day
Create the perfect getaway at home for Valentine's Day
(ARA) - It's not romantic, but in today's world, money can be tight and quality time together can be scarce. That's why it's so important for couples to create a perfect night for Valentine's Day -- instead of the predictable candy, flowers or dinner in a crowded, overpriced restaurant.
Valentine's Day gives us a chance, not only to relight the spark we have with our special someone, but to throw on a little kerosene so that it burns bright for another year. Even on a tight budget, a memorable night of romance and fantasy can be yours by using your imagination (which is still free until someone learns how to bottle it) and remembering this: you can be anywhere your heart desires with the right music, the right lighting and the right wine.
The Ski Cabin Valentine Fantasy
Is it your dream to spend a romantic weekend in Asheville or Aspen? Just the two of you in a little cabin, spending the night in front of a fire, safe from the ice and cold outside. Set the mood, and you're instantly there. Dim the lights and place some thick blankets and comfy pillows in front of the fireplace. Create that authentic atmosphere by turning down the heat as much as possible so that the blankets, the fire and some snuggling are absolutely necessary. Scent is important, so add a little something extra to the fire by soaking hickory chips in orange or apple juice overnight, powdering them with cinnamon and clove and then adding them to the fire as needed. For music, try some instrumental jazz like Miles Davis or John Coltrane. A spread of sliced cheeses, grapes, warm chestnuts and a passionate-purple bottle of Luna di Luna Sangiovese/Merlot will complete the scene with just the right flavors.
The Tropical Paradise Valentine Fantasy
Does the idea of an amorous night in Aruba, Key West or Cancun for Valentine's Day sound more like your sweetheart's desire? With a little creativity you can provide the next best thing. Turn-up the heat and lay out a thin blanket and a couple of beach chairs to create a tropical scene. Turn off all the lights on the east side of the room and replace the lights on the west side with orange bulbs to simulate the sunset, then spritz the air with ocean breeze- or orchid-scented air freshener to recreate a tropical atmosphere. Cook a tropical-style meal (grilled seafood or steak are always good choices) and serve it on the blanket. Add a background CD of beach sounds like waves or gulls to set the tone for the evening. For a finishing touch, you'll need a sunshine-yellow bottle of Luna di Luna Pinot Grigio/Pinot Bianco or the volcano-orange bottled Shiraz/Merlot and a CD of Jimmy Buffet or Bob Marley to play on another stereo and you're all set.
The Italian Romance Valentine Fantasy
Rome, Milan, Venice, Florence, Palermo; some of the most romantic cities in the world are in Italy. Chances are your Valentine would love a starry-eyed night of Italian food and ambiance almost as much as actually being there. Serve-up eggplant or chicken parmesan, baked ziti, tortellini alfredo or frutti de mar (Italian seafood pasta) along with salad and garlic bread to make mouths water and to put a rich, delightful smell in the air. Set the table and light candles throughout the dining area for a sophisticated ambiance. Pop open a romantic-red bottle of Luna di Luna Merlot/Cabernet, fill the air with the sounds of romantic arias or maybe Frank Sinatra, and you'll have created a masterpiece by capturing the essence of Italy right in your dining room.
Any of these "valentine vacations" would ordinarily cost you a pretty penny. But, as you can now see, with a little ingenuity you can create the experience right in your own home. All you have to do is imagine what that perfect night would be like, then creatively use music, lighting, color and scent to set the mood and capture the experience. After all, if "it's the thought that really counts", then the imagination you put in to your Valentine's Day evening will be worth a fortune.
Courtesy of ARA Content