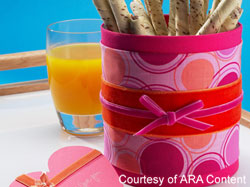 Handmade Valentine's Day Creations for Those You Love
(ARA) - Valentine's Day is not just a holiday for couples; it is a day to show everyone you love your appreciation. Why not express your admiration and love by creating personalized gifts and treats? Whether a delicious breakfast-in-bed or embellished Valentines, your loved ones will treasure your handmade gifts and thoughtfulness.
Breakfast-in-bed
It's all in the presentation. Make assorted fruit, crispy toast and fresh-squeezed orange juice a special breakfast treat by serving them with fancy china, silverware and a brightly-colored, homemade centerpiece. With just a little fabric, ribbon and the right glue, a plain glass cylinder can be transformed into a colorful vase for the breakfast tray. Use it to display a Valentine bouquet or to hold cookies and treats.
You'll need:
Perfect Glue 1
Cylindrical glass or metal vase
Fabric (2 colors or prints)
Ribbon
Rotary cutter or scissors
Cutting mat
Ruler
Iron
Clothespin
For the bottom layer (closest to the vase), cut a piece of fabric large enough to wrap around the vase with a 1/4 inch allowance on all four sides. Fold edge of fabric over 1/4 inch on top and bottom edges and iron.
Cut another piece of fabric narrower than the first, with the same 1/4 inch allowance. Fold over and iron edges as before. Apply a thin line of Perfect Glue 1 to top and bottom edges of narrower piece of fabric; glue to bottom inside layer of fabric. Layer ribbon over fabric and glue. Once dry (approximately 1 hour), wrap layered fabric band around vase. Apply a thin line of glue to one end and glue to vase. Glue one end over the other; secure with a clothespin at the top edge while drying.
Heart Cards
Create homemade Valentines with a personal touch by gluing embellishments such as buttons, velvet ribbon and rhinestone clips to heart-shaped cardstock. Write a personalized note and leave them in unexpected places, like your children's backpacks and your co-worker's desk or briefcase. These unique Valentine surprises are easy to make and are versatile enough to be used for greeting cards, gift tags and place holders on a Valentine's Day dinner table.
Courtesy of ARA Content