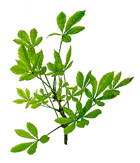 Siberian Ginseng
Introduction
This fact sheet provides basic information about Siberian Ginseng. E. senticosus belongs to the same family (Araliceae) as
Panax ginseng
and is synonymous with Acanthopanax senticosus (Rupr. ex Maxim.) Harms. The geographical distribution of eleutherococcus coincides with that of P. ginseng in forests of broadleaf trees, including spruce and cedar. It grows at elevations of up to 800 m or more above sea level. The plant is a shrub, commonly growing to a height of 2 to 3 m or, less commonly, 5 to 7 m. It has gray or grayish-brown bark, numerous thin thorns, and long-stalked and palmate leaves.
Eleutherococcus has been used and studied extensively in Russia. It is used as a health food, tonic, and sedative in China and wider Asia, as well as in traditional Korean folk medicine as a tonic, an adaptogen, and to strengthen "qi" (life force).
As with its relative Chinese ginseng, root extracts of the plant have been promoted as "adaptogens," which aid the body in responding to external (eg, environmental) and internal (eg, disease) stress. The plant extract has been traditionally used to normalize high or low blood pressure, to stimulate the immune system, and to increase work capacity. Reputed effects include increasing body energy levels, protecting from motion sickness and against toxins, controlling alloxan-induced diabetes, reducing tumors, and controlling atherosclerosis.
Common Names
Siberian Ginseng, Devil's Shrub, Eleuthero, Shigoka, Touch-Me-Not, Wild Pepper, Kan Jang
Latin Names
Eleutherococcus senticosus
What It Is Used For
Eleutherococcus is similar to common ginseng in its properties and alleged effects; however, documentation is limited. Extracts of the root have been used for a wide variety of therapeutic purposes and are said to have an adaptogenic effect. It exhibits cardiovascular as well as mood- and energy-enhancing effects.
How It Is Used
For adults the recommended dose of Siberian ginseng is 2 to 3 grams daily in the form of a tea or capsule. You can also take a tincture of herb and alcohol, or herb, alcohol, and water (1 part Siberian ginseng may be used in 5 parts liquid), to be taken in doses 5 mL three times daily. When making a ginseng extract, a mixture of 1 part herb is used in 1 part liquid. It is best when using solid extracts made from dried powdered root which contain at least 1 eleutheroside F. These should be taken in doses of 100 to 200 mg up to three times a day. When used for children it is recommended to cut the adult dosage according to the weight of the child. For instance, most herbal dosages for adults are calculated on the basis of a 150 lb (70 kg) adult, so if the child weighs 50 lb (20 to 25 kg), the appropriate dose of Siberian ginseng for this child would be one-third of the adult dosage.
What the Science Says
Documentation is limited.
Side Effects and Cautions
Adverse reactions, toxicity, contraindications, and warnings similar to those for Panax species (see Ginseng, Panax) apply.
Sources