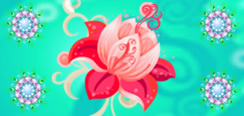 "Celebrate the happiness that friends are always giving, make every day a holiday and celebrate just living!"
Amanda Bradley
Holidays on The Infostarbase

Holiday is a contraction of holy and day, holidays originally represented special religious days. This word has evolved in general usage to mean any extra special day of rest (as opposed to regular days of rest such as the weekend). Countrywide, Holidays stands for when everybody plans for holidays or a break. Under many belief systems, days of rest are necessary for ritual or spiritual rejuvenation.

Holidays on the InfoStarBase offers a wealth of information about holidays, including their history and holiday-related activities.

Please enjoy our collection of holiday celebrations and stories.



Saturnalia, or the festival of Saturn, was celebrated in ancient Rome at the end of the vintage and harvesting to honor Saturn, the god of agriculture. As part of the festivities, masters served their slaves--an acknowledgment of the equality of rank and lack of class distinctions which existed during the golden age (supposedly ruled over by Saturn). Other observances included the exchanging of gifts, offering of sacrifices, and unrestrained merrymaking.



Santa Claus

It is believed that the real St. Nicholas was born sometime around 280 A.D. in Patara, near Myra in modern-day Turkey. According to legend, his extraordinary kindness led him to give away all of his inherited wealth as he traveled the countryside helping the sick and poverty-stricken. Admiration for his philanthropy eventually grew into the legend of Santa Claus.

Did you know that?
St. Valentine's Day evolved from the ancient Roman festival Lupercalia.


Halloween is generally considered to have evolved from Celtic festival known as Samhain, or the Celtic New Year.


The day after Thanksgiving begins the Christmas shopping season and is sometimes known as "Black Friday".


In 1981 the United Nations General Assembly passed resolution 36/67 declaring an International Day of Peace.


The very first Father's Day celebration took place in Spokane, Washington in 1910.


Every year, the United States President is presented with at least one live turkey & two dressed turkeys by the National Turkey Federation.