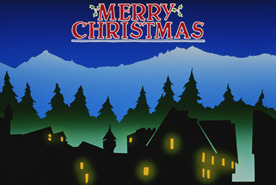 "He who has not Christmas in his heart will never find it under a tree."
Roy L. Smith
Christmas Stories from around the world
Christmas, is an annual holiday celebrated on December 25 or January 7 that commemorates the birth of Jesus of Nazareth but is also celebrated by many non-Christians as a secular, cultural festival.

For many centuries, Christian writers accepted that Christmas was the actual date on which Jesus was born. However, in the early eighteenth century, some scholars began proposing alternative explanations. Isaac Newton argued that the date of Christmas was selected to correspond with the winter solstice, which in ancient times was marked on December 25.


Please enjoy our collection of Christmas Stories.









Fun Christmas Facts
The song "White Christmas" holds the credit as the most-selling Christmas single of all time.
Santa Claus has nine reindeer counting Rudolph that pull his sleigh.
Saturnalia, was the Romans holiday that was celebrated in December.
It wasn't until about 200 years after Christ's death that Christians started celebrating his birth.
In northern Europe there was a holiday known as Yule. They celebrated this holiday by making great fires. They then would dance around the fires, yelling for the winter to end.
Austria was the first country to issue a Christmas postage stamp.
Silver and gold are the popular Christmas colors after red and green.
Eggnog the popular Christmas food was an American discovery.
The Christmas carol "I Saw Momma Kissing Santa Claus" was made famous by Jimmy Boyd when he was just 12 years old.
Christmas lights were invented by the American Ralph E. Morris.
W. C. T. Dobson invented the Christmas card.
Canada is the largest exporter of Christmas trees.
King's Canyon National Park, California has the world's largest Christmas tree.
Coca-Cola made the concept of Santa Claus popular in America.
There are twelve days between Christmas and the Epiphany.




A Christmas candle
A Christmas candle is a lovely thing;
It makes no noise at all,
But softly gives itself away.
Eva Logue
Did you know that?
Mrs. Claus, Santa's wife, was first introduced to the world in 1889 in the book "Goody Santa Claus On A Sleigh Ride" by the poet Katherine Lee Bates.


In Australia, Christmas comes in the middle of summer and the temperature often hits a sweltering 100 degrees farenheit on Christmas day. During this warm Australian Christmas season, outdoor barbecues have become a part of the Christmas tradition.


Rudolph the Red-Nosed Reindeer was originally created for Montgomery Ward department stores as part of a promotional gimmick.